Museo
museum projects - projets musé

es
2013 - 2015- Room 4 at the British Museum, the Egyptian Sculpture Gallery - Salle 4 au British Museum, Londres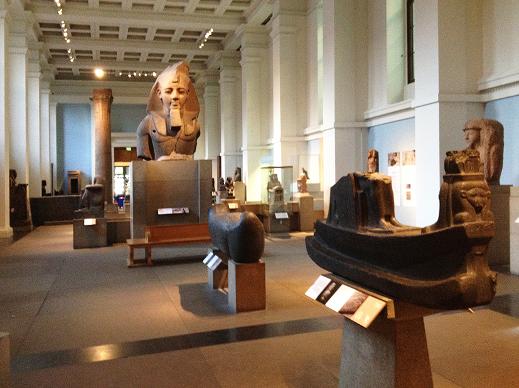 Click on images above for the picture gallery
"Thank you so much for everything you did for the project, we are all really grateful for your work. Your drawings were so comprehensive that they made the installation very simple"
Jonathan Lubikowski
Project Manager at the British Museum, February 2015.
Left overview of the North side of the gallery
Arnaud was selected at the end of 2013 to refresh the world famous Room 4, the Egyptian Sculpture Gallery, at the British Museum. The re-design includes new interpretation structures and graphics and a new elegant and uplifting blue colour scheme for the side walls. The refurbishment was completed in March 2015. Above are pictures of the actual gallery and below early concept visuals and graphics.
Arnaud a été sélectionné en 2013 pour rafraichir la célèbre Salle 4 au British Museum, dédicacée à la sculpture égyptienne. Le project comprend la conception de nouvelles structures graphiques d'interprétation et une nouvelle palette de couleur pour les murs, achevé en mars 2015. Ci-dessus des photos du project fini et ci-dessous des visuels et proposition graphiques au stade de concept.

2011/2013 - House of European History, Brussels - Maison de l'Histoire Europ
é
enne, Bruxelles
"Working with Arnaud on the House of European History was a real discovery in realising that a designer could actually understand a narrative and interpret it in a poetic, beautiful, joyful and informative way." Taja Vovk van Gaal, Academic Project Leader, House of European History
Arnaud worked as a creative consultant and designer with the Academic Project Team for the future House of European History in Brussels. This new cutting edge historical museum will present key periods and moments in European history that have shaped Europe and the European Community today with a focus on recent history of European Integration. Arnaud completed in 2012 a full concept study for the 4000 sq meters of permanent exhibitions to form the basis of the museum Master Plan. More recently, in April 2013, he compiled the Interpretative Plan.
Arnaud a travaillé comme conseiller créatif et scénographe avec l' équipe APT pour la future Maison de l'Histoire Européenne a Bruxelles. Ce nouveau musée historique présentera les moments principaux de l'histoire européenne qui ont contribué a créer l'Europe et la Communauté Européenne d'aujourd'hui, en particulier l'histoire récente de l'intégration européenne. Arnaud a complété une étude de concept en 2012 pour les 4000 m2 d'expositions permanentes qui constitue la base du plan directeur du musée. Plus récemment Il a developpé le Plan d'Interprétation en Avril 2013.
POLIN, Museum of the History of Polish Jews, Warsaw - POLIN, M
usé
e de l'Histoire des Juifs Polonais, Varsovie
2016 - Polin Winner of the European Museum of the Year Award - POLIN gagne le prix du M
usé
e Europ
éen de l'
Ann
é
e
2014 - Opening of the Core Permanent Exhibition
- Ouverture de l'Exposition Permanente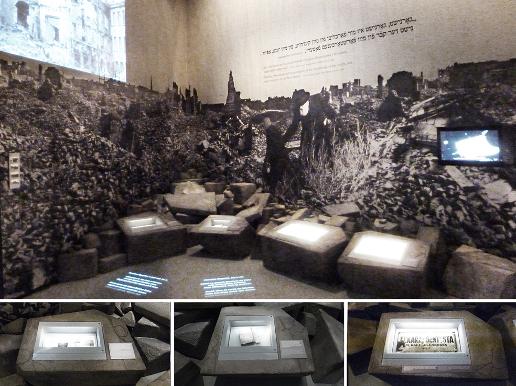 In October 2014 the Core Permanent Exhibition of Polin, the Museum of the History of Polish Jews in Warsaw, Poland, was finally opened to the public.
In February 2015, together with other colleagues from Event Communications, Arnaud was awarded the "odznaka honorowa Zasłużony dla Kultury Polskiej" (honorary medal for contribution to the Polish Culture) for his role as lead designer for the core exhibition between 2006 and 2011.
In 2016 Polin won the European Museum of the Year Award
Click on images right and videos below for the completed exhibition
Arnaud a été scénographe en chef pour 4000 m2 d'exposition permanente couvrant 1000 ans d'histoire des Juifs Polonais. Arnaud et ses collègues du studio Event Communications ont reçu une médaille pour leur contribution a la culture Polonaise en tant que scénographes pour le project. Polin, le Musée de l'Histoire des Juifs Polonais, a reçu le prix du Musée Européen de l'Année 2016.
Museum of the History of Polish Jews

, Warsaw, Poland, 2006 - 2011
Lead designer for the 4000 sq m of permanent exhibition covering 1000 years of Polish Jewish History (for Event Communications Ltd)
Sc
é
nographie pour 4000 m2 d'exposition permanente couvrant 1000 ans d'histoire des Juifs Polonais.
"Arnaud Dechelle is a brilliant designer. Working with the principles of interpretive design and narrative space, he helped us to create a theatre of history for the 1000 year story of Polish Jews that we tell. Thanks to him, this is a story told in space that communicates at every level. I treasure the opportunity we had to work with him." Barbara Kirshenblatt-Gimblett, Program Director, Core Exhibition, Museum of the History of Polish Jews
2011 - National Maritime Museum in Greenwich, London

- Mus
ée National Maritime de Greenwich, Londres

Arnaud

developed a concept study for the National Maritime Museum in Greenwich to explore ways of improving visitors orientation and circulation
Arnaud
a developp
é une
étude de concept pour le Mus
é
e National Maritime a Londres pour l'am
élioration de l'orientation des visiteurs
Louvain Institute for Ireland in Europe

, Belgium, 2004 - 2008
Interactive exhibition for the Irish College (for Event Communications Ltd)
Exposition interactive pour le College Irlandais
à
Leuven

The Royal Institution of Great Britain

, London, 2003 - 2008
Permanent exhibition within the new RI (for Event Communications Ltd)
Exposition interactive scientifique au sein de nouveaux espaces

City Museum of Ljubljana

, Slovenia, 2003 - 2006
Four floors of permanent exhibition (for Event Communications Ltd)
Exposition permanente sur quatre
é
tages sur la ville de Ljubljana

Chester Beatty Library
, Dublin, 2000 - European Museum of the Year
Concept for the permanent galleries (for Event Communications Ltd)
Sc
é
nographie pour l'exposition d'art sacre de Sir Chester Beatty